Computer Science and Informatics Summer Research Experience Program (CSIRE) is a summer program to provide opportunities for high school students to participate in research and motivate the students to pursue a career in the field.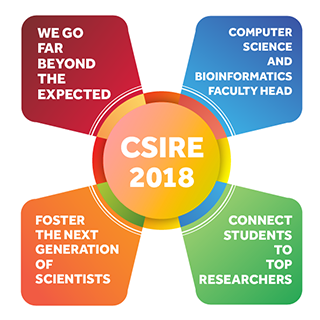 The program is held jointly by the Department of Biomedical Informatics and the Department of Computer Science at Stony Brook University. Each student will be working in a lab mentored by a faculty or a Ph.D. student on a research project. Students will also visit labs and attend seminars introducing cutting edge research in both informatics and computer science. The students will present their work to their classmates during the middle and the end of the program. Programming background is required and some projects will require background on biomedical sciences.
CSIRE 2017: For the program in 2017, please read the news "Computer Science, Bioinformatics Faculty Lead Summer Program for K-12 Students". You can also see pictures of CSIRE 2017. One of the students Kavya Kopparapu, a member of the Simons Summer program and co-mentored with CSIRE, is among the finalists of Regeneron Science Talent Search. (News: Three SBU-Mentored High School Seniors Are Finalists in Regeneron Competition)
CSIRE 2018 News: What did you do this summer?
CSIRE 2018
Dates:
June 25 - July 27, 2018
Application Deadline:

Applications must be submitted or postmarked by March 30, 2018

Cost:
$2,400
Financial Aid:

There are a limited number of full and/or partial scholarships are available to applicants who are eligible for the Federal free or reduced lunch program. Please submit a letter, on letterhead, from an official at the school district

or

the letter you received stating that you are eligible for the free or reduced lunch program in order to be considered for a scholarship.

This letter must be included with your application.
Eligibility:

Students must be at least 14 years old at the time of program.

Hours:
Monday - Friday 9:00am - 5:00pm
Mentors:
Faculty and Ph.D. students in Departments of

Computer Science and Biomedical Informatics

Housing:

For students who choose to live in a dormitory on the Stony Brook campus the cost will be approximately $60 per night. The cost of food will be approximately $28 per day. Once accepted into the program, students will be given a link to register for housing.

Non-local participants - housing is available on the weekends as well. Information will be provided upon acceptance to the program.

Chaperones:

Students will be escorted to and from the lab and supervised during breakfast and dinner and all other activities on campus (including the laboratory, dormitory, library, computer facilities, gymnasium, on all field trips, etc.) with the exception of lunch.
Laboratory Activities: Students will explore topics in a research area in bioinformatics, health informatics or populational health, data science, human computer interaction, networking and security, among others.
Seminars: During their stay, students are afforded the opportunity to learn about areas of computer science and biomedical research from the Stony Brook faculty.
Laboratory Tours: To explore a vast range of topics in informatics and computer science, students will tour multiple labs on campus.
Residential Life: Participating students who live on campus during the week will go home on the weekends. They are housed in a dormitory reserved for academic high school programs. Students participate in recreational activities (at the dorms, athletic fields), as well as visit other campus offices such as Admissions and Student Activity Center to learn more about college life.
Click to Apply (Closed for 2018)
For additional information or questions, please call (631-632-9750) or e-mail ( istem@stonybrook.edu).